Page 2 of 2 •

1, 2

megaman177 wrote:

Name:

Tommynaut and Beak-Beak

Size of group:

2

Description/Picture:

Left - Tommynaut, Right - Beak-Beak

Universe:

Armikrog

Abilities/Equipment:

Tommynaut and Beak-Beak are capable problem-solvers who prioritize negotation and pragmatism. While diplomatic, they have no hesitation to resort to mild force if necessary. Physically, the duo possess remarkable flexibility, agility and adaptibility. Tommynaut's spherical torso is hollow, rendering it effective means of storage. It contains a supply of blue, winged, capsule-like comestibles, which enable Beak-Beak to sprout wings and gain flight upon consumption.

Beak-Beak is significantly smaller in scale contrasted to Tommynaut, allowing him to access confined places. Despite being blind, Beak-Beak has enhanced sense that allows him to detect the invisible and paranormal. Because of his lack of vision, however, he is dependent on other senses such as scent, sound, and touch. He is able to swallow and regurgitate small objects for Tommynaut's use.

History:

Tommynaut and Beak-Beak are two space-fairing aliens native to Ixen who crash-landed on Spiro 5 after seeking a power source for their home planet. They enter the fortress Armikrog, commencing their search as they solved puzzles and repaired the derelict castle. During their venture, they fostered the infant P and discovered the presence her re-incarnated parents Tvark and Meva had in Armikrog's construction and subsequent desolation.

Alignment:

Neutral Good

Link: http://armikrog.gamepedia.com/Tommynaut

/

http://armikrog.gamepedia.com/Beak-Beak
Accepted!
_________________
Slapstick might need a partner in crime!
Name:
Patricia "Peacock" Watson, and her Gang
Sex (if any):
Female
Height (you can approximate):
4'6"
Weight (you can approximate):
96 lbs
Description/Picture: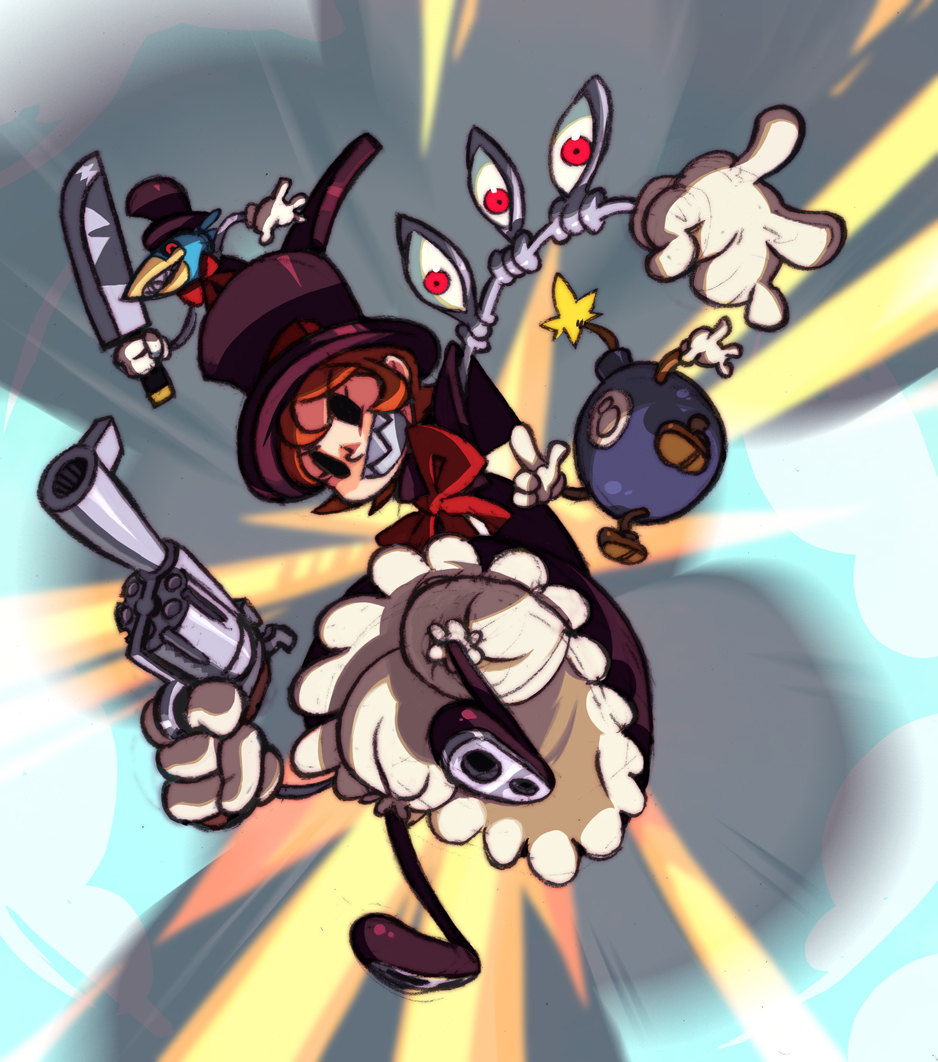 Universe:
Skullgirls
Abilities:
Peacock, engineered from a mutilated orphan, uses her Avery unit and her Argus system to emulate the 'toons she sees on the TV screen. Her Avery unit can tear through (hammer)space itself to bring Peacock items that she can use to whack, shoot, drop, you name it. Essentially, she is a living cartoon character, with all the cartoon violence to boot. While her empty eye sockets do not allow her to see, the Argus system (the eyes on her mechanical arms) transmits visual input to Peacock's visual cortex, restoring her vision. In fact, the Argus system enhances her entire body, allowing her to move more swiftly and smoothly than a normal human being (like, well, a squash-and-stretch rubber-hose 'Toon). In her mouth is a bear trap--I mean,
set of dentures
, that she can pop out and use as a weapon, and she can manipulate her entire arsenal to fit her cartoonish theme. She has an endless supply of walking cherry bombs, a wide array of weapons in her metaphorical sleeves, and access to many large, heavy objects.
She can even do the Dio steamroller thing.
Full moveset:
http://skullgirls.wikia.com/wiki/Peacock/Move_List
Bio:
Patricia Watson is a defiant orphan who, alongside her friend Marie, was captured by slavers during the Grand War. To make an example of her, the slavers gouged her eyes out and badly mutilated her at age 12. Rescued by the intelligent Dr. Avian and the Anti-Skullgirl Labs, Patricia was repaired, made better, and given cybernetic implants (synthetic parasites) that defied reality itself. Dubbed the "Peacock Project", Peacock became the Anti-Skullgirl Labs' best hope for defeating the Skullgirl.
Bluntly put, Peacock is nothing short of insane. Happy-go-lucky and absolutely bonkers, with (time-appropriate) bloodlust, Peacock is certainly eager to "paint the town red"... with
blood.
Nothing sates Peacock's boredom more than a good cartoon and laying waste to anyone or anything in her sight. Brash, combative, and impatient, Peacock is easily the most outspoken and infamous member of the Anti-Skullgirl Labs, as well as the most prominent. Peacock is also, for the most part, optimistic and light-hearted, and considers imminent threats more of invitations to brawl. Her tendency toward violence is a reflection of both her tragic past and near-death experience as well as the cartoons she cherishes.
Despite having a damaged psyche, Peacock does not attack people out of sheer randomness or without provocation. Although rude and impersonal to fellow ASG Lab 8 members (and most people in general) superficially, Peacock still very much considers them family, and will go to certain lengths to protect them from harm (or in the case of her and Big Band's story mode, further harm). Dr. Avian was particularly close to Peacock, and his death sent her into an outrage to search for his murderer.
None, however, are closer to Peacock than Marie Korbel, her one true friend from her past and the Skullgirl she was tasked to destroy. In the end, she disposes of Marie as she was instructed, but personally sees to it that Marie's wish to end the Medici Mafia is carried out.
Alignment:
Chaotic Good
Link:
http://skullgirls.wikia.com/wiki/Peacock
_________________
Name:
Politician!Double
Sex (if any):
None
Height (you can approximate):
Varies
Weight (you can approximate):
Varies
Description/Picture:
Universe:
Skullgirls
Abilities:
Like any good politician, Double is capable of flip-flopping between bodies. Capable of mimicking anyone or anything using only its flesh, Double is difficult to battle in both the Senate and the arena. Double copies their abilities as well, and she seems to have a nigh unlimited supply of flesh. The inside of Double is a realm within itself.
In addition, Double has access to the
REPUBLICAN CAAAAAAAAAR
!!!
Bio:
Double is a shapeshifting monster in service of the Trinity, the goddesses of the world of
Skullgirls
. Double's duty is to ensure that the Skull Heart's influence remains on the Earth, so as to speed its destruction as per the orders of the Trinity. As such, Double is the one tasked with the creation of Skullgirls such as Marie. Her origins are vague, but we do know this: Double has the American GOP within her grasp. By infiltrating the United States senate under a Republican guise, Double maintains a political hold on the nation's society and can ease the search for potential Skullgirls, as well as place the nation's influence under the Trinity.
Double is an enigmatic character who lacks a distinct motive or will that most of the cast have and rarely emotes. She mostly maintains a stoic demeanor when conversing with someone. However, she has shown bouts of pure rage and hatred when it comes to characters like Squigly (Squigly refuses to obey Marie's orders) and Eliza (Eliza killed Aeon and Venus). Double's encounter with Eliza implies that she has an unspecified connection to Queen Lamia, such as being her avatar or 'shadow'. She has been shown to be a manipulative figure who will do anything to further her agenda and create Skullgirls. Even if she follows their orders, Double will not hesitate to eliminate a Skullgirl should they put The Trinity's plans to a standstill. In terms of politics, Double flip-flops a bit but tends to stand on the American right wing in its support of policy. Politician!Double also tends to
shout
a lot.
Alignment:
Neutral Evil
Link:
http://skullgirls.wikia.com/wiki/Double
https://www.youtube.com/watch?v=40Z03UzBlns
_________________
Page 2 of 2 •

1, 2


Similar topics
---
Permissions in this forum:
You
cannot
reply to topics in this forum