Characters for DCIX go here. Refer to original OOC for character list.
_________________
Admin




Posts

: 307


Join date

: 2015-09-14


Location

: Presumably at an electronic device



Name:
Arkhan, Mortarch of Sacrament
Sex (if any):
Male
Height (you can approximate):
7'1
Weight (you can approximate):
180ibs
Description/Picture:
Universe:
Warhammer Fantasy, Warhammer Age of Sigmar
Abilities:
Wargear:
The Tomb Blade of Arkhan - The flesh of those slain by this dread blade burns away, leaving behind only a charred skeleton enslaved for all eternity to Arkhan's dark will.
Staff of Nagash - This staff was created by the Arch Necromancer Nagash to harness the reservation of dark magic within the accursed Black Pyramid.
The Liber Mortis - This accursed tome is one of the fabled nine Books of Nagash, the most potent source of necromatic magic in the world.
Being the second hand of Nagash, Arkhan is the second most powerful being in the realm of death. And commands fell, necromantic magics with dizzying expertise and discipline unbeknownst to the living. Though he may be strong in the dark arts, Arkhan is no pushover in close quarters. When not followed by a Dread Abyssal, the Grand Vizer fights with supernatural strength. Enough to cut the unholy strength of Bloodthirster Muscle.
Bio:
Born thousands of years ago, back when Nehekhara was a kingdom of the living, Arkhan was originally a member of a noble family in Khemri during the reign of king Thutep. Despite his lineage he was the black sheep of the family, more interested in gambling, drugs, back-alley brawls and whore-mongering (the latter implied with "favors" from the temple of Asaph, but reputedly he had to pay double before any of the priestesses went near him). He earned the nickname "the Black" as a human from his appalling dental hygiene and his love of chewing juseh root, which reduced his teeth to black shards.
When Nagash sought a cabal of followers to assist him in usurping the throne of Khemri he found them in Arkhan and his compatriots. In particular they were convinced by a demonstration of his newly created art of necromancy. The group supported Nagash by kidnapping victims off the street, this served to both supply Nagash with bodies for his experiments and to undermine his brother's rule. Arkhan and the others started to learn rudiments of necromancy themselves during this time, and he was the first of Nagash's followers to partake of the elixir which granted eternal life, becoming the first of Nagash's so-called "Immortals".
When Nagash finally usurped his brother's throne, declaring himself king of Khemri, Arkhan was appointed his vizier. In response the Priest Kings of Nehekhara formed an alliance against Nagash, and Arkhan served as the great necromancer's foremost lieutenant in the struggle that followed. Battle after battle was waged, but inevitably the more numerous forces of the Priest Kings proved too much, and Nagash and his armies were forced back into the city of Khemri.
Arkhan is officially credited with leading the suicidal counterattack that allowed Nagash to escape the Army of the Seven Kings, single-handedly holding them off with spell-casting and swordplay for an hour before some random schmo managed to hit him in the heart with a spear (in the Time of Legend's novel it's a shot from a Cathayan gun, but GW said the army books trump Black Library novels). Dying, he croaked out a curse that anyone who touched his bones would die horribly, and burst into black flames that left behind only a blackened skeleton. The Khemrians were so spooked that they wouldn't dare touch his bones, so they just covered them under a great heap of rubble (In earlier lore, there was no curse, but the Nehekharans didn't desecrate Arkhan's remains out of respect for his badass last stand).
This was followed by a moment of retconned lore. According to the Time of Legends:Nagash novels and backed by a sentence in the End Times:Nagash book, the story of Arkhan's demise by a spear thrown by an unknown soldier was a lie. He was incapacitated by a shot to the heart from a Cathayan gun Lahmashizzar wielded. Then Arkhan and Nagash's nine books were smuggled to Lahmia. There Arkhan was restored to unlife and kept as a prisoner of Lamashizzar and W'soran to teach them Nagash's magic. Lahmashizzar was not smart, so not only did he have no magical ability, he brought in his sister Neferata to aid in the lessons. Sound Neferata decided to visit Arkhan herself and chatted with him. She wanted Arkhan to teach her as well, and used her charm to try and persuade him. To everyone's surprise, including her own, Neferata sympathized with the imprisoned lich and formed a genuine rapport with him that grew into something more. Arkhan gladly taught her magic until she was able to overthrow Lamashizzar and take the throne for herself with the king reduced to a figurehead under her thumb.
This turned out to be a grave error however when the king, still supported by many members of the cabal, tried to have Neferata assassinated with a deadly magical poison. Arkhan tried to save Neferata, but his methods reacted with Neferata's blood and she appeared to die. Furious and determined to have his revenge, Arkhan snuck into the royal palace and assassinated Lamashizzar in return. The king's bodyguard Abhorash, though too slow to save his king, beheaded Arkhan in personal combat for his crime. Unbeknown to Arkhan his magic in fact had saved Neferata and turned her into the first vampire. She had Arkhan's corpse discretely but respectfully buried in the Lahmian necropolis.
Many years later Nagash, now secured in his northern fortress Nagashizzar, decided to take his revenge on the Priest Kings of Nehekhara. Although generations had passed, he had not forgotten his most loyal lieutenant. Knowing he would soon have need of him Nagash had Arkhan rise from his tomb and join him in the north. Once again he led his master's forces against the united Priest Kings. During this time, Arkhan formed a bitter rivalry with W'soran. The former thought the latter was overconfident, the latter thought the former was a coward. They two often argued; when they weren't disagreeing on the best way to conduct the battles, they bickered over which of them was the better wizard, which form of undeath was best or who was Nagash's favorite. Between their mutual animosity and the great leadership and military prowess of king Alcadizaar of Khemri, they were unsuccessful despite a long campaign.
When Nagash enacted the first part of his Great Ritual, Arkhan commanded Nagash's undead army once more and this time easily defeated the plague riddled Nehekharans, taking Alcadizaar prisoner. Staying in Khemri to take control of Nagash's supreme army of the whole undead Nehekharan nation when the second part of the ritual was cast, he instead was forced to flee when Nagash's assassination left the risen kings with their own willpower. United under Settra, the wrath of the Tomb Kings was simply too great.
Intent on wreaking vengeance on the living for the death of his master, Arkhan ransacked Nagashizzar (fighting his long time rival W'Soran and other returned Immortals in the process) he then turned his army towards Araby, and for generations battered its kingdoms in what Arabian chroniclers would come to call the Wars of Death. Inhabiting the desert wastes that surround Araby, Arkhan would lead his armies upon an Arabian city, razing it to the ground before withdrawing again to the deserts.
Later he established himself once again in Nehekhara in his fortess of old, the Black Tower. From here his repeated raids and incursions, while not a major threat, soon became more than just a mere nuisance. Repeatedly Settra would be forced to do battle with Arkhan and whilst he had a vastly superior sense of strategy and better troops at his command their battles always resulted in a stalemate as Settra could never hope to match the great necromantic power of Arkhan. Therefore Arkhan would submit to Settra's authority and swear fealty before once again defying him just a few short years later. This stalemate might have been broken had the other Tomb Kings assisted but Settra was too proud to ask for their help and most considered Arkhan a valuable, if untrustworthy, ally.
Over the following centuries, Arkhan busied himself with hunting down various treasures of Nagash in order to serve his master on the day of his return. However, for some reason, he didn't re-join Nagash when he was resurrected and engaged in his northwards campaign against Sigmar.
Arkhan had for a long time foreseen the End Times coming and knew Nagash was one of the few beings who could be relied upon to defeat the Chaos Gods. In order to restore Nagash he needed to gain many of the items Nagash had imbued with his power over the years. Already possessing a number of his Nine books, Arkhan sought Nagash's staff. By allying himself with Khalida of Lybaras to attack the vampire lord Mandregan in Sylvania, Arkhan acquired one of Nagash's lesser staffs, and soon learned the location of his primary staff Alakanesh; Bretonnia. Though being undead and serving Nagash dulled his emotions, he's still in love with Queen Neferata.
With the coming of The End Times, Arkhan made his move. To try and find Nagash's staff he backed Mallobaude's coup with resulted in Bretonnia's civil war, which was a failure for Arkhan due to the intervention of the Wood Elves and the return of Giles Le Breton. Since he already had two of Nagash's books, he entered Sylvanvia seeking the rest of them, but Mannfred took exception. After an amazing duel that resulted in a stalemate, they called a truce and the two formed an alliance. After much politicking, they arranged the plan to retrieve Nagash's treasures, with him and Mannfred leading several armies. Arkhan was the one who broke them out of the Wall of Faith trapping them in Sylvania through an ancient ritual; Mannfred had the power but lacked the knowledge of how to use it. The second time Arkhan tried to retrieve the staff he had to kill Kemmler for it because the necromancer had betrayed Nagash to serve the Chaos Gods. In the battle Arkhan lost one of the few things he cared about, a zombified cat he had adopted. Despite repeated assassination attempts from Beastmen led by Malagor and Mannfred's vampire knights, Arkhan succeeded and Nagash returned to the world.
During this time, Arkhan also established himself as a Hero Killer, killing Kemmler (magical duel), the Fey Enchantress (bled out as the sacrifice to bring Nagash back), Eltharion (aged to dust by magic) and Nekaph (incinerated by magic). During the war for Nehekhara he took all the undead in Nagashizzar and conquered Mahrak and Quatar, the latter in a big offscreen battle that's barely alluded to. At Khemri he was the visible commander of Nagash's armies and managed to do alright despite being outmatched. Eventually he was cut in half by Settra, who'd had enough of him by that point, and magically smuggled Nagash into Khemri within his own body. After the battle for Khemri ended with Settra's defeat and its destruction, Arkhan was permitted to go to war wherever he wanted at the behest of his master once more. Now the Mortarch of Sacrament, riding the Dread Abyssal Razarak, The Doom of Traitors, Arkhan still serves Nagash with dedication in his actions... though for the first time in millennia he started having second thoughts.
When Nagash entered his sarcophagus to absorb the wind of death after conquering Nehekhara, Arkhan led the undead in his absence. When Isabella and the Nameless attacked, Arkhan showed some tactical savvy and organized the defense, but was defeated after a vicious fight with Isabella and killed. After the destruction of the Black Pyramid Nagash was furious over Arkhan's failure, but knew Arkhan was reliable and intelligent so Nagash restored him and Krell. When Nagash travelled to Athel Loren to work with the living, Arkhan was silent but snickering to himself about the irony of Nagash's situation. Apart from some witty banter with Vlad, Arkhan only speaks because Nagash doesn't want to, making Arkhan in effect the Mouth of Sauron. After a fight with the forces of the Chaos Gods, the Incarnates and their forces are sent to Middenheim. Arkhan helps co-ordinate Nagash's army, then Throgg came with an army of monsters. Nagash told Arkhan to take two Morghast hosts and hold them until dead. When Arkhan asked for any further instructions he sensed Nagash's doubt before Nagash said, "DIE WELL MY SERVANT." and abandoned him. Though it ends with Arkhan fighting, it's repeated that it's a fight he can't win.
In the Lord of the End Times novel, after the Incarnates fail to stop the rift, Neferata encountered Arkhan with an unconscious Isabella. Arkhan had survived Nagash's last order and driven back the army of Chaos monsters (with the unexpected help of Settra) but he was battered. Arkhan told her that Aliathra's magic gave him a vision of a mysterious figure who could save/restore the world even after it was destroyed, and that he would help them if he could. Arkhan then showed her his slowly disintegrating hand; with Nagash's destruction Arkhan was dying as well. He bade Neferata flee and try to avoid the world's destruction, and take Isabella with her, stating he thought it was possible she could survive the end of the world. Neferata kissed him, took Isabella and fled while Arkhan tried to buy her time with his magic. As Neferata escaped, there was a last burst of purple magic and she could no longer sense him and grieved, thinking him destroyed
With the world's reconstruction in Age of Sigmar, Arkhan's back! He's bound to Nagash and it's confirmed while Nagash exists, so does Arkhan. He fought alongside Nagash when the latter was allied with Sigmar, and followed him after Nagash's betrayal. When Nagash fell against Archaon, Arkhan led the counterattack where Nagash's body was retrieved along with thwarting the treachery of Prince Vhordai. However, the novel Nagash: The Undying King implies that he is not the same. Now Arkhan seems to have no memory of the previous world or any interest in Neferata. One theory is that he is not the original Arkhan; either a construct made from Nagash's memory of Arkhan or another person who took up the mantle (like one of the theories about Farsight before it was revealed he's the same guy with life-stealing sword), but it is also possible that he's simply hit by a creation-of-a-new-world hangover that made him forget his previous life. A disturbing third theory is that Nagash stole some of Arkhan's memories. In the novel Soul Wars, it's revealed that Arkhan is at least partially playing dumb. He plays the loyal servant so well that the other Mortarchs, and occasionally Nagash himself, forget that he's his own person and not just a neutral avatar of Nagash. This lets him get away with making his own moves in their endless politicking almost entirely undetected. In fact in the same novel it is heavily implied that he is trying to use the renewed conflict between Ayr and Shyish to manipulate both Nagash and Sigmar into joining forces against chaos. He seems to figure that after the two gods slap eachother around a bit and vent their anger that they'll eventually kiss and make up enough to unite against chaos again, as he correctly surmises that the Chaos Gods would only take the renewed conflict between them as a moment to strike again after their defeats in the realmgate wars.
Arkhan shows up in the Age of Sigmar audio book "The Bridge of Seven Sorrows". His voice actor is unknown but he makes Arkhan's voice sound, ironically, a bit like that of the late Sir Christopher Lee. In the audio book, Mannfred and the Stormcast enter the Underworld to find Nagash. They are stopped at the the other side of the bridge by Arkhan and his steed, Razanak. Arkhan calls Mannfred schemer, ingrate and fearful before ordering him to leave. The Stormcast give their message to Arkhan, but he states Nagash doesn't want to hear it and wants nothing to do with Sigmar before ordering the Stormcast Eternals to leave or die. When they persist Arkhan summons seven banshees to kill the Stormcasts while he duels Mannfred. Arkhan manages to hold Mannfred off until Tarsus joins the duel and stuns him, with Mannfred taking advantage of the distraction to cut of Arkhan's sword hand and hurl him against the bridge. After explaining that the entire confrontation was a test, Nagash himself arrives and Arkhan stands aside to let Nagash handle things. What's notable is that Arkhan ordered them to leave or die rather than attacking at first sight, even warning the Stormcast several times.
Later on Arkhan met the Stormcast who were hunting Mannfred to pay him back for his treachery claiming he had a message from Sigmar. He's also present with the third meeting of the Stormcast, where he pretended to lose control of a terrorgheist as part of a test Nagash had for the Stormcast Eternals. After pushing back the forces of Chaos, he was put in charge of gathering gravestone for Nagash's Great Black Pyramid.
Alignment:
Lawful Evil
Link:
https://1d4chan.org/wiki/Arkhan_the_Black
b]Name:[/b] Neferata, Mortarch of Blood
Sex (if any):
Female
Height (you can approximate):
6'6
Weight (you can approximate):
160ibs
Description/Picture: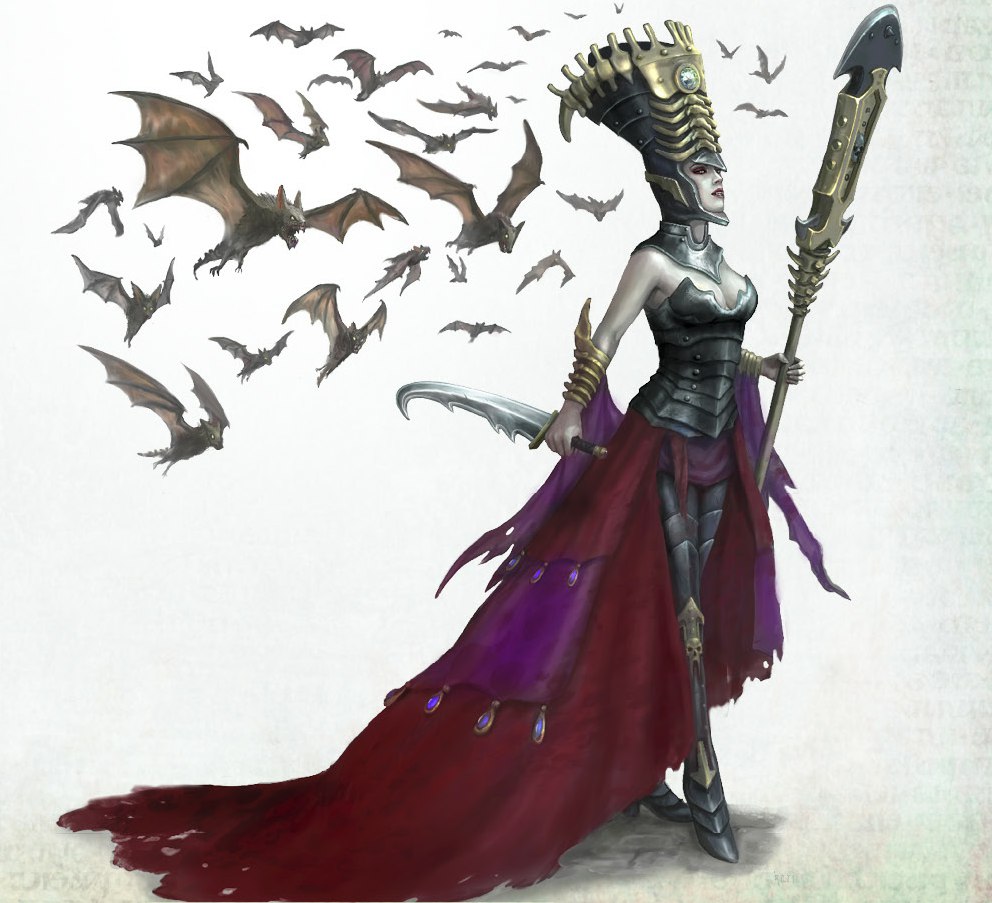 Universe:
Warhammer Fantasy, Warhammer Age of Sigmar
Abilities:
While a powerful sorceress and combatant in her own rights. Neferata instead prefers the art of subterfuge and statecraft to defeat her foes. Securing the loyalty of even the most questionable of subjects to fight in her own wars. The First Vampire has an unholy union with words, and a tongue laden in silver. When words fail she is a nightmare given form, the swiftness of death. She does not strike with crushing blows, she slits throats and guts warriors with speed and grace that a Lord of Secrets could only hope to emulate. And with her powerful magicks, the bodies of the slain soon join her ever swelling ranks.
Bio:
Neferata, then Neferatem, was the daughter of King Lahmizzash of Nehekhara, and as a girl, she expressed a wish to join the Mortuary Cult. Her father laughed at her and explained that women could not join the priesthood and, indeed, could never learn magic. Instead, she was destined to rule the city of Lahmia when she came of age. Under the malign influence of High Priest W'soran, one of Nagash's spies, she used this position to save some of the Great Necromancer's works from the pyres and studied them herself. With these works and W'soran's aid, she distilled the Elixir of Life, and they became the first Vampires. They cast the priests out of Lahmia and replaced them with their own cult dedicated to Nagash, based around the Temple of Blood. Not all the people of Lahmia appreciated this.
The Mortuary Cult of Lahmia cut all its ties with the priests of other cities and began a reformation of its principles, encouraging female priests to join. The temple was rebuilt using stones taken from buildings of Khemri destroyed on Nagash's defeat, and the chambers of the temple glittered with gold and were decorated with statues and hieroglyphs telling the story of his rise to power. It became the Temple of Blood. The cults of the other Gods found themselves falling out of favour, struggling to be heard at court, and many of those priests left. Neferatem invited her cousin Khalida Neferher, the Warrior Queen of Lybaras, to join her cult. Khalida rejected her offer, suspicious of the changes going on in Lahmia and devout in her own worship of Asaph, the Asp Goddess.
Worried that Khalida knew her secret, Neferatem accused her cousin of treason and attempted to assassinate her during a feast, drawing her into a duel before all the nobles of the Lahmian court. Neferatem's Vampiric strength gave her victory, and whilst Khalida lay dying, the Vampire bit her own tongue and kissed her cousin, transferring her curse. Devout Khalida prayed as she died, and her prayer was answered; Asaph drew the taint out of her blood and replaced it with poison, granting Khalida a holy death. It is said that although her death was holy, it was not complete, and Khalida lived on as the eternal guardian of Asaph's temple. Neferatem, thwarted in her attempt to gain a powerful ally, cast the remaining priests of the other Gods out of Lahmia. During this period of change, Neferatem had been secretly feeding on the populace of her city, arousing the suspicion of Abhorash, the love-struck captain of her guards.
Abhorash was horrified to discover his love's true nature, but he could not long resist her commands. He drank of the Elixir of Life at her bidding, and as his nature changed, so too did his protests. Neferatem and W'soran spread their curse to many at the Lahmian Court this way, including Chief Judge Maatmeses and the court vizier, Harakhte. So began her Deathless Court, the trueborns who would be masters of the lesser Vampires they created. Abhorash still felt twinges of his goodness from life and created a set of rules for the trueborn to follow, ostensibly as a way of protecting themselves from discovery. They would only prey on criminals and slaves, not ordinary citizens, from then on. Also, they were forbidden from feuding amongst themselves, and no trueborn could kill another. Thus, when Neferatem's brother Ushoran learned of the Elixir and stole a draught of it for himself, she could not punish him, and Ushoran, the lowly Lord of Masques, was permitted to join the Deathless Court. Under its ageless queen, Lahmia became a city known for its religious intolerance and the harshness of its laws. Agents of the other cities began stirring up rebellion, horrified by the spread of the Cult of Blood and its veneration of Nagash, the Great Heretic. When the insurrection came, it was more brutally destroyed by Neferatem than the previous rebellion, earning her the name Neferata, meaning "Beautiful Death."
Alcadizaar was the eldest son of King Aten-heru, Priest King of Khemri. The Queen of Rasetra and wife of Aten-heru had a troubled pregnancy and fearing the death of her first child, the Queen desperately came to the city of Lahmia and begged for her child's life at the Temple of Blood. There, Neferata gave the woman an infusion containing her blood and when the boy was born, claimed him as her own saying he would stay in Lahmia until he came of age and took his throne in Khemri. This child would be called Alcadizzar.
Neferata grew to believe that Alcadizzar would become her latest partner and had him trained in every aspect of war and statehood. Given unnatural life by Neferata's blood, Alcadizaar stayed within Lahmia for many decades, postponing his rights to the throne of Khemri in hopes of achieving greater glory and prosperity for his kingdom should Alcadizaar promise to marry Neferata and join the two cities in holy union. By his fiftieth year, Alcadizaar, still as young, vigours and handsome as he was in the prime of his youth, finished his indoctrination and was tricked into drinking from the Elixir of Life, thus going into the process of becoming a Vampire. Disgusted by his own Queen's treachery, Alcadizaar managed to escape her grasp when Ubaid, his former mentor sacrificed himself to give him time to escape. When he escaped, Neferata chased her former lover and future husband throughout the streets of her own city, her true features revealed for what they truly are. Alcadizaar managed to escape and this event only darkened the already bleak soul of the Vampire Queen.
Following Alcadizaar's disappearance and the failed rebellion, the other cities of Nehekhara still wished harm to come to Lahmia. General Setep of Khemri, whose legion had conquered lands as far away as the south of what would later become the Empire, was foremost amongst this coalition. Amongst his soldiers was a masterful tactician called Vashanesh, who was of Nagash's own blood. Betraying Setep, Vashanesh travelled to Lahmia to warn them of this planned attack. Vashanesh so impressed Neferata she gave him the last of the Elixir of Life (which none have been able to recreate since) and made him her husband, King of Lahmia and co-ruler of its growing population of Vampires. Together they plotted to keep the other cities of Nehekhara distant from each other, creating a network of spies that split the nation for centuries, disrupting all attempts to unify the people against them.
After centuries of uncontested rule, it was King Alcadizaar the Conqueror who finally managed to mobilise the disparate armies and bring war to Lahmia by invoking the names of the old Gods of Nehekhara and revealing the true nature of Lahmia's ruling caste. He laid siege to the city at the head of an army composed of warriors from all of the cities, as well as the territories he had added to the realm, carved out of Araby and the Southlands. Arriving at the city, they were horrified to be met not only by the military of Lahmia but also by an army of the dead raised from their rest by W'soran. Fighting back their fear, Alcadizaar's troops brought battle to the Undead. Though outnumbered, the army of Lahmia could be continually replenished, the dead rising as soon as they fell.
Their mortal followers proved less reliable, and traitors amongst them turned against their masters and allowed the Nehekharans to storm the city. The chariots of the Jackal Squadron of Marahk coated the streets with blood, and those Vampires who did not flee were forced to do battle on the steps of the temple. Abhorash lead the defence for a full week, withstanding the spells of Zandri's high priests and the alchemical fire of their war machines. Finally, the temple was burned to the ground, and Abhorash was forced to flee with several of his sons-in-darkness, the last of his compassion for the living finally burned out of him. They travelled far, and their slaughter of the Orcs of what later became the Badlands is still famed. The other surviving Vampires, including Neferata, W'soran, Ushoran, Maatmeses, and Harakhte fled to the north where they came across a reborn Nagash in the midst of raising an Undead army of his own.
It was no coincidence that the Vampires came across Nagash. Through his agent, W'soran, Nagash had manipulated them from the first and lent them his magical aid from a distance during the siege of Lahmia. When Neferata learned the full extent of W'soran's manipulation, she was furious, even more so when Nagash passed her over to offer his distant relative Vashanesh a position as leader of his forces. Nagash had crafted a ring that would allow the Vampire who wore it to return from the dead even more easily than they already could, but through that ring, Nagash would control all of Vampirekind. Vashanesh accepted the ring, and at Nagash's command, the Vampires led his army to Khemri.
Although at first the Vampires were eager to serve as Nagash's lieutenants to gain revenge on Alcadizaar and regain Lahmia, it became apparent their survival was irrelevant to Nagash. He hurled them carelessly against the enemy as he would his mindless Undead troops, and he cared not for rebuilding Lahmia and sought, instead, to destroy all of Nehekhara. Bound by the power of the ring Vashanesh wore, they were unable to disobey Nagash or even his second-in-command, Arkhan the Black. Vashanesh hit on an ingenious solution to the problem. Suspecting the control Nagash exerted relied on a living Vampire wearing the ring, and believing the Great Necromancer's assurance it would return him from the grave, Vashanesh allowed Alcadizaar to cut him down at the height of a battle.
The Vampires were freed from their control, and only W'soran remained; the others scattered to the winds after bickering over where to go and who deserved to lead them. Maatmeses and Harakhte vanished out of history, though there are rumours of Vampires in far Cathay and the Southlands who may be of their lost bloodlines. Ushoran settled in Strigos. Neferata travelled widely, influencing the nations of man from their foundings and inserting her daughters in privileged positions amongst them. W'soran stayed by Nagash's side whilst he cursed and ranted at the fickleness of Vampires. Upon Nagash's defeat, W'soran took many of his master's writings and studied them with the aid of his acolytes and his apprentice, Melkhior, transcribing his notes in the dread Grimoire Necronium.
His mastery of necromancy grew so profoundly that he was able to limit the red thirst that drove Vampires to live dangerously close to mankind, though the effect of this change was to hideously twist his line's physical form. His reward for this feat was death at Melkhior's hand. Vashanesh eventually returned as Nagash has promised he would, and he spent the next few centuries testing the limits of the ring. Even if Nagash had truly died after being abandoned by the Vampires, which seemed unlikely, the ring had allowed Arkhan to control them as well. Who knew how many other favoured servants Nagash had who would be capable of turning the Vampires into their slaves? Vashanesh set about mastering certain magical arts to make the ring his slave, rather than vice versa.
Whilst many of the Vampires hid from Nagash, fearing he would control them once more, Ushoran discovered a fledgling nation who worshipped the Accursed One as a God. The country of Strigos in the shadow of the World's Edge Mountains was then ruled by a shaman named Kadon who wore an ancient crown that gave him magical powers. Ushoran recognised this as the Crown of Nagash, which had been borne here by his murderer. Enough of Nagash had been absorbed by the crown that it possessed a reflection of him that could speak through it to the crown's bearer, though this shadow of Nagash was subservient to the will of the bearer. Ushoran saw an opportunity to assert his dominance over Nagash and be the first of his kind brave enough to form a new kingdom of the undying.
Insinuating himself at the court of Strigos, Ushoran spread his curse to those he saw possessed of a thirst for power like his own, and eventually, his coalition deposed Kadon. Learning a lesson from the rulership of Lahmia, he enforced a strict rule of law, allowing his kind to feed only on criminals. Strigos became one of the most crime-free nations of history. Proud of his achievement, Ushoran sent messengers to invite his sister to his court that she might bask in his glory. Neferata's contemptuous response was to use her influence over the tribes of man to send them to war with Strigos. Ushoran led an army against this enemy, who were little more than barbarians and no real threat to him. Whilst he was thus distracted, a huge Orc horde swept down from the mountains like a green tidal wave, engulfing Strigos. Ushoran rushed back to his people's aid, and at the city of Mourkain, he did battle with the Orcs.
Although he managed to slay their warlord, an Orc shaman defeated Ushoran, and his followers, the Strigoi, were forced to flee as the Greenskins demolished Strigos. The Strigoi sought refuge with the other bloodlines but found none. The Vampires had strictly segregated themselves, partly for their own safety (reasoning that in small numbers they would be less likely to either court resistance as they had in Lahmia or attract the attentions of Nagash) and partly out of unwillingness to compete for the limited resource of blood. As each of the trueborn stamped their own personality on those they chose to join them, this segregation became exaggerated, until the bloodlines became openly hostile towards each other. Vashanesh contemptuously killed several of the Strigoi who turned to him for aid, Abhorash's Blood Dragons hunted them for sport, Neferata's Lahmians continued to turn Humans against them, and W'soran's Necrarchs used them in their necromantic experiments. In desperation, the Strigoi began dwelling on the edges of civilisation, in tombs and in graveyards. Normally, Vampires will not feed on the blood of those not recently dead, as it gives little sustenance and tastes of ash. The Strigoi cared not and fed on the blood and even the flesh of those long deceased. In doing so they became twisted, bestial mockeries of their kind.
Then Age of Sigmar happened. Nagash is an immortal god of the afterlife and gets all souls Chaos doesn't, barring the Stormcast Eternals. Since Games Workhop undid their complete reboot with identical factions reappearing, Vampires came back too. Neferata was shown alongside the other Mortarchs meaning that the entire End Times story meant jack. But since Khalida hasn't been shown and the Tomb Kings were revealed to have been Squatted, Nef at least outlived her. Neferata got her own part of the realm of death and "creatively" named it Nulahmia while also basing it's fashion and architecture off of Nehekhara's. She built an even bigger spy network and ensured that she was the top vampire. Mannfred, and possibly Vhordai, are the only ones who don't pay homage to her, and Neferata and Mannfred have clashed several times. She's also gotten over her misandry, as she employs male and female vampires depending on their abilities.
Later, Nulahmia came under attack from an army of mortal followers of Chaos... of Slaanesh, of all the Chaos forces... because apparently some Chaos Lord wants her for himself, not caring that she's undead. Quite a thing to sneak past the kiddies, Geedubs! (In the novel Lords of Death, the same lord kills a beastman who tried to stop him raping it). Her forces are aided by the Stormcast Eternals and together they defeat the forces of Slaanesh. Neferata later tries to make a secret alliance with the Stormcast right under Nagash's nasal bones. After the battle (where Neferata's obsessed fan Chaos Lord falls into a pit of skeletons), Neferata is disappointed that Nagash was just dicking with the Stormcast but had to go along with it. During Malign Portents, Neferata used her manipulations and spy network to keep Tzeentch's forces occupied, undermine Sigmar's forces and spread Nagash's influence across the realms.
One interesting part of her character hasn't been extrapolated upon yet; whether or not she still has a thing for Arkhan the Black. Some parts hints that Arkhan isn't the same as he was in the World-That-Was and may not remember Nef at all, but we don't know how Nef herself feels about this - if she cares at all, that is. Maybe the coming apocalypse brought the sweetheart out of her for a short while.
Alignment:
Lawful Evil
Link:
http://warhammerfantasy.wikia.com/wiki/Neferata
b]Name:[/b] Mannfred, Mortarch of Night
Sex (if any):
Male
Height (you can approximate):
7'1
Weight (you can approximate):
340ibs
Description/Picture:
Universe:
Warhammer Fantasy, Age of Sigmar
Abilities:
Mannfred is an extremely powerful vampire, possessing immortality and great knowledge in dark magic. He is knowledgeable in all spells in the Lore of Vampires and the Lore of Death, such as his skill at necromancy. Mannfred possesses the Sword of Unholy Power, which increases his dark magic powers the more he attacks foes and often rides a Dread Abyssal into battle. Mannfred, unlike Neferata has partially succumbed to the more beastly desires associated with vampires. As such he is a hulking mountain of undead muscle and fury, capable of ripping apart lesser foes with disturbing ease. Tearing their bones so that he make drink deeply of their viscera.
Bio:
There are two versions of Mannfred's origin story, but both agree that he was a man of noble descent turned into a vampire thousands of years go. The first is that he was the first vampire that Vlad sired and traveled with him for awhile. The second version is that Mannfred used to be Khaled, a former vampiric retainer of Neferata. Khaled was the eldest child of an Arabyan nobleman and had a younger sister called Anmar. When Neferata tried to take control of Araby, she was taken down by Abhorash and her staked body put under heavy guard. Despite being staked, Neferata didn't truly die and was able to sway Khaled and his sister with her vampiric charm and promises of power and revenge. After they freed her, Neferata turned them into vampires and they became her retainers for a time. When Neferata rebelled against Ushoran, Khaled tried to stage a coup of his own against Neferata but accidentally killed Anmar when she got caught in the crossfire. Neferata got the upper hand over Khaled, who was inconsolable with grief, and imprisoned him after taking control of the Silver Pinnacle. Neferata proceeded to give the imprisoned vampire to Arkhan, and then Khaled somehow found his way into the service of Vlad and instead went by the name of Mannfred.
Wanting to overthrow Vlad, Mannfred converly informed the informed Grand Theogonist, Wilhelm III, about the secret of the Count's immortality - The Carstein Ring. The priest then set out an elaborate trap to catch the best thief of this very age: Felix Mann. When they finally caught him robbing the Imperial Counting House, they gave Felix a simple choice: to rob Vlad von Carstein's signet ring, or to be hanged for his crimes. In reward for the theft, he would be paid enough to start a living elsewhere. Felix accepted the theft and, with Mannfred covertly helping Felix by shrouding him from the sentries' attention, robbed Vlad of The Carstein Ring. Mannfred later caught up with Felix, who was trying to abscond with the ring and Vlad's book of Nagash because there was no proof of the deal and he felt double-crossed, and repaid Felix by cutting off his hands and stealing the ring and book for himself.
With poppa vamp killed by the Empire pope of the time and momma killing herself because she couldn't have unlife without him, Konrad took control of the armies of the von Carsteins and raged about causing a shitload of civil wars within the Bloodline that usually ended with Konrad pulling a Strigoi and drinking the blood of another vamp's lifeless body. Mannfred on the other hand saw this as a good time to get the fuck out of Dodge and become a wizard. Leaving a young vampire ally named Jon Skellan with Konrad to stoke Konrad's paranoia and undermine his rule, Mannfred explored the world, mainly seeking haunted places and necromantic circles. He visited Nehekhara and studied the Tomb Kings as they slumbered, and was able to do this mainly because he was smart enough to not steal their stuff and fled when they did notice him (wearing all the clothes to keep the sun off him). He managed to find the Books of the Dead that Queen Neferata had studied long ago, and became her equal as a necromancer. He entered Nagash's Black Pyramid and communed with Nagash's spirit. After Konrad died like a jackass, Mannfred returned and took command of all the roaming undead in Sylvania, returning stability to the region once again and allowing the Empire to think they'd won peace. He manipulated the new nobles into being under his power, as well as vampires from all Bloodlines everywhere in the Old World he could find them.
Once Mannfred had gained a large enough army by nabbing all the undead beasties he could, he shed his handsome teenager disguise and revealed his true face: that of a corpse mummified partially from exposure to the elements with a huge jaw and fangs to match, and bathed at all times in magical currents. He surprised the Empire at a time when it was unprepared for invasion, and set out to succeed where Vlad had failed by becoming the Emperor. Mannfred von Carstein's Undead legions crossed the Sylvanian border in the depths of winter, as freezing cold means squat to the flesh of the dead. With the summer campaigning season over, the armies of the Elector Counts were already disbanded and wholly unprepared for the sudden assault. Mannfred's armies marched through the snow towards Altdorf, putting to the sword any living people they met and raising the corpses to swell the ranks of Mannfred's horde. He got his ass kicked by priests, and from that point on he kept sending his army against every city in the Empire only to lose, badly, and retreat. Since his army was fairly self-replenishing this didn't mean much to him however, except to frustrate him. Mannfred was finally pushed back into swamps of Sylvania, where he decimated the Empire and Dwarf army sent after him but was defeated none the less.
The war managed to spread vampirism to most of the Old World, from man to Dwarf, and the various Bloodlines saw a huge surge in young vampire recruits. Mannfred, who had survived his defeat, began to re-consolidate his power and make new plans. The Empire was ravaged by Kurgan and the High Elves and Dwarfs saved them. Mannfred took his time hiding and studying the battles, learning about the three armies, and decided his next invasion would require the three to be at war with each other.
Once again Mannfred traveled the world and learned more magic, this time outright swearing himself to Nagash to bring him back into the world. This became the main goal of the von Carstein Bloodline, which led them to partially annex the Necrach bloodline, and those not interested defected to other Bloodlines or were killed. Mannfred enlisted Heinrich Kemmler and his servant Krell to aid him. When Aliathra, the princess of the High Elves, went on a diplomatic trip to increase relations between Dwarfs and High Elves Kemmler manipulated Orcs & Goblins into attacking the fortress. When the Elves and Dwarfs defeated the greenskins, Kemmler raised the corpses of the fallen and sent his own army after them. The two armies were decimated, with the Dwarf King slain and the bodies of the defenders shambling after Kemmler as his new servants. The lover of Aliathra was badly injured by Mannfred himself during the battle, and Aliathra was knocked out and taken in the claws of a Terrorgheist. Mannfred took her far from the lands of the Dwarfs into the heart of Sylvania where she was locked away while Mannfred prepared a resurrection ritual.
He expected the Dwarfs and High Elves to go to war, thinking they'd blame each other. Indeed, nobles in Ulthuan and Dwarf whitebeards called for war to redeem their honor. However, Phoenix King Finubar and High King Thorgrim Grudgebearer were decidedly less fucking retarded than those around them. Finubar was a diplomat at heart and knew that the Dwarfs were badasses who'd fight for a lady to their last breath, and as the keeper of the Book of Grudges Thorgrim knew when a grudge was warranted and when it wasn't. Alarielle the Radiant of the High Elves sensed that Aliathra was still alive (not a vampire, vampires magically detect as "dead") and thus she called upon her past and present lovers, Finubar and Tyrion respectively, to get her baby back!
Finubar immediately went to the Dwarfs to secure an alliance against the vampires (see the eventual Dwarf army book update for a continuation on that plot), and Tyrion gathered a fucking glorious all-cavalry army to ride against Mannfred. Mannfred himself was preparing a Frank Frazetta style place to sacrifice Aliathra to complete a resurrection ritual (to bring back Nagash. Sure, the sacrifice is one elf, but that one elf IS the future Everqueen. And the fluff clearly says it's to bring back Nagash). Tyrion broke into his castle, found the unresponsive Aliathra, and rode out with her. As his men were leaving they witnessed a fucking enormous Undead army popping up out of the ground from all directions as far as the eye could see around them. Tyrion leads the elves as they try and fight their way out before some unexpected help comes.
According to the new Dwarves codex, High King Thorgrim didn't really care about elves (which is weird since he gave Aliathra a whole Dwarf honor guard in the Vampire Counts version of the story), but since it was a matter of honor he gathered an army and followed Mannfred all the way to Nagashizzar (though the story neglects to mention how they were able to track him since he was flying away on a zombie dragon after the battle). The Dwarves hit the rear of Mannfred's army just as the elves hit the front. They killed the necromancers that keep bringing back the undead but Mannfred recaptured Aliathra when Tyrion was distracted and used his magic to flee with her. Tyrion met Thorgrim and insulted him like crazy, blaming the Dwarves for the loss of Aliathra. In a surprising show of tolerance and peackeeping, Thorgrim doesn't get grudge-happy and tells the other Dwarves who are itching to restart the War of Vengance to chill the fuck out, knowing that the Dwarves have the moral high ground and that fighting the elves would create more grudges. He then tells Tyrion that next time he tries to rescue Aliathra, the Dwarves won't be there to bail his ungrateful ass out and marches off with his army to retake Karak Eight-Peaks like a boss.
Mannfred gets new fluff in the new Sigmar's Blood book where a third reincarnation of Sigmar will fight Mannfred's armies. Spoiler alert, that ends on a cliffhanger too; The current Empire Pope Volkmar thwarts Mannfred's plan, and the book ends with Mannfred lunging, fangs bared, at Volkmar's throat. Then the just knocks Volkmar out and goes home. See, he saw a guy named Boris Todbringer and remembered that a similar nobody killed papa Vlad. Then he reveals that he needed some powerful people to sacrifice to bring Nagash back, and Volkmar is the last one needed. As it turns out, Nagash sent him a message saying it's time to make step-daddy proud!
Mannfred returned once again in a second campaign revolving around Nagash. He made in-roads to resurrect Nagash, travelling across the world to get the necessary artifacts and sacrifices (except for the Faye Enchantress, who was given to him by Drycha, who Mannfred only made a token attempt to kill in return, and Volkmar who was captured while he attempted to purge Sylvania). This continued until Balthazar turned Sylvania in a roach motel, but for undead, with the Wall of Faith (unknowingly due to the manipulation of Tzeentch, through the Changeling). This is a setback for Mannfred's plans, but help arrived from an unexpected quarter. Mannfred's plan meant his agenda overlapped with that of Nagash's right hand lich, Arkhan the Black. Arkhan came to Sylvania to help Mannfred or take over and spearhead the Nagash's Comeback project. Mannfred took exception and the two dueled, resulting in a stalemate before settling on a truce. After Arkhan found a way through the Wall of Faith, they divided the work to retrieve the remaining artifacts willingly. After interference from the Bretonnians, Elves, Beastmen and several bouts of treachery, they succeeded and Nagash walked the world again, stronger than ever before.
Having helped resurrect Nagash, Mannfred got rewarded with more power, the title of Mortarch and a new ride in the Dread Abyssal steed called Ashigorath. But for the thoughtcrime of traitorous ideas against Nagash, he was punished with the resurrection of Vlad von Carstein. Vlad's return caused nearly all of Mannfred's supporters jump ship when they found out Vlad's back. Vlad is also made a Mortarch, and is dispatched by Nagash to keep Archaon occupied while Nagash enacts his own plan to conquer the world, enter the Warp and become the only god in existence. When Nagash launched his invasion of Nehekhara, Mannfred joined forces with Luthor Harkon, attacking Zandri. Mannfred leading the ground troops to attack Zandri's land army while Luthor attacked its navy. Mannfred dueled the Tomb King Behedesh and was nearly killed, but his vampire lieutenant saved him twice over, killing Behedesh before the latter killed Mannfred and ensuring he rather than Mannfred got struck down by the Tomb King's curse. Mannfred took a backseat for the rest of the war, but was horrified when Nagash practically reached godhood and conquered the Tomb Kings at Khemri; he mused that if he'd allied with Settra, he could've stopped Nagash AND the Chaos Gods (as if Settra would ally with Mannfred).
Things kept going downhill for Mannfred as he chafed under Nagash's rule. When Vlad disobeyed Nagash to help Averheim and the forces of Nurgle invade Sylvania, he tried to steal Vlad's power behind his back. When Arkhan named Mannfred (acting) commander, he tried to fight the Nurglites but they proved too strong for him. Even when Vlad returned and they were forced to work together it was not enough and Mannfred fled, booting Luthor off when he tried to hitch a ride with Mannfred. As the forces of Nurgle approached the Black Pyramid, Mannfred was ordered/blackmailed by Arkhan to be his errand boy. He personally sent a message to Neferata from Arkhan and she accepted Arkhan's terms; help defend the Black Pyramid and you will get Khalida. He fought when the Black Pyramid itself was under attack, but deviates from Arkhan's battle plan and moved to the edge of the battle to ensure his own survival. After the Black Pyramid was destroyed and Nagash magic-nuked the forces of Nurgle, Mannfred got epic lulz and headed to ground zero. He hoped that Nagash was gone and that he'd get a chance to take full command of the Undead Legions, not factoring in Neferata had the same plan. Unfortunately for both of them, Nagash was still standing and calling the shots (to add insult to injury for Mannfred, Nagash resurrected Arkhan and Krell, who were slain defending the Black Pyramid).
At Nagash's command the undead marshalled their forces and headed to Athel Loren to ally with the surviving elves, humans and dwarves. Mannfred was demoted further as Sylvania was given to Neferata with Vlad's death because the Tomb Kings were less willing to serve Nagash than the vampires,outnumbered the vampires and practically everyone knew Mannfred would arse up trying to lead them. When they reached Athel Loren, Mannfred delivered Nagash's terms in lolspeak until Malekith glared him into submission. At the meeting to determine what to do about Nagash, Mannfred sat there laughing behind his sleeve at everyone. His mood only got better when he sees an outburst and deduced that the elven goddess Lileath has been turning the Bretonnians into an hero with her sockpuppet goddess, the Lady of the Lake. When Nagash offered the one responsible for Aliathra's death as a token of goodwill Mannfred practically celebrated that Arkhan was getting thrown under the bus. However, Mannfred found out that he, not Arkhan, was going under the bus; few knew of Arkhan's involvement in the Everchild's death but everyone knew of his. He got locked away by the elves and slowly vampirized (oh the irony) to feed Athel Loren. Vlad, once again back from the dead, visited him to to troll him and/or give some parting words before leaving him to die.
Unfortunately that wasn't the end. Bea'lakor, fresh of his first defeat, sneaks around in Athel Loren to cause mischief. He encountered Mannfred, who says "fuck it" and took a level in jerkass by making a deal with the devil, exchanging his freedom for selling out Lileath to Bea'lakor. After getting a bite to eat/killing his guards, he decided to join with someone he thought would appreciate him and to save his own skin - Archaon. But not before trolling the forces of order as revenge for imprisoning him by telling the Bretonnians the truth about the Lady/Lileath. Somehow retaking his skeleton dragon-bat-horse, he flew to Middenheim and became one of Archaon's motley band of auxiliary turncoats.
However, even Archaon wouldn't take Mannfred's sass and Mannfred betrayed Archaon too, sitting on the fence when the Incarnates arrived and trying to figure out the winning side. In the end, Mannfred continued a string of betrayal and arrogance that would disgust a Skaven and doomed the world by stabbing Balthazar in the back when the Incarnates were trying to stop the world-destroying rift. The magical backlash depowered the other Incarnates, drove Mannfred insane and, most importantly for Mannfred, killed Teclis. Importantly because Tyrion sees this; Tyrion, whose daughter Mannfred (supposedly) killed and who had now lost a brother due to Mannfred's actions. Tyrion let Mannfred know how he felt about the situation, with his fiery sword Sunfang doing the talking - by running Mannfred through and then burning him from the inside out. Despite Warhammer-Starscream's death, the damage was done and the Incarnates lost control the rift, which spiraled out of control, consuming the world and everyone in it.
tl;dr: This whiny, selfish vampire is the one responsible for the destruction of the Warhammer world in-universe. Damnit Mannfred!
Despite the above, Mannfred is the winner of the Von Carsteins, since he made it to Age of Sigmar but Vlad and most (if not all) of the other Von Carsteins did not (yet?).
However it wasn't an easy road to victory.
Nagash, rightfully pissed over Mannferd backstabbing him (figuratively, by literally backstabbing Balthazar) and enabling the Chaos Gods to destroy the Warhammer world (revealed to have been called Mallus), exiled him to a land where everything decays including himself. Note: while Nagash may have gained godhood and a planet/realm of his own after the loss of Mallus, there are seven other realms. This means at least seven other Incarnates are there who can challenge him; with at least two, Tyrion and Alarielle, wanting to kick his skeletal ass.
So Mannfred languished in this magical version of super-Detroit until Chaos invaded. He led his forces of undead and some allied living against an army of Khornates. However they proved too much and Mannfred fled with his tail between his legs. His lore continues in a series of audio books. Mannfred is at some point captured by Khornates. He is freed by Stormcast Eternals on the condition that they ally with him and that he leads them to Nagash.
The meeting with Nagash goes as well as one would expect.
He currently serves as one of Nagash's Mortarchs again. Nagash is fully aware that Mannfred is treacherous but keeps him around partly because a treacherous minion helps keep him sharp and alert, acts as a motivator for loyal Arkhan, a stumbling block for conceited Neferata and partly because he takes pleasure in finding new ways to torture him whenever he fails him. In the Realm of Death, he rules over a land called Carstinia, which is essentially a recreation of Sylvania populated by simulacra of the other Von Carsteins who are his slavering lapdogs. Although he created it to stroke his ego, he quickly grew to despise his realm due to it reminding him of his failures in the Old World, and thus he spends as little time as possible there.
Alignment:
Lawful Evil
Link:
https://1d4chan.org/wiki/Mannfred_von_Carstein
Name:
Pyke
Sex (if any):
Male
Height (you can approximate):
6'1
Weight (you can approximate):
145ibs
Description/Picture: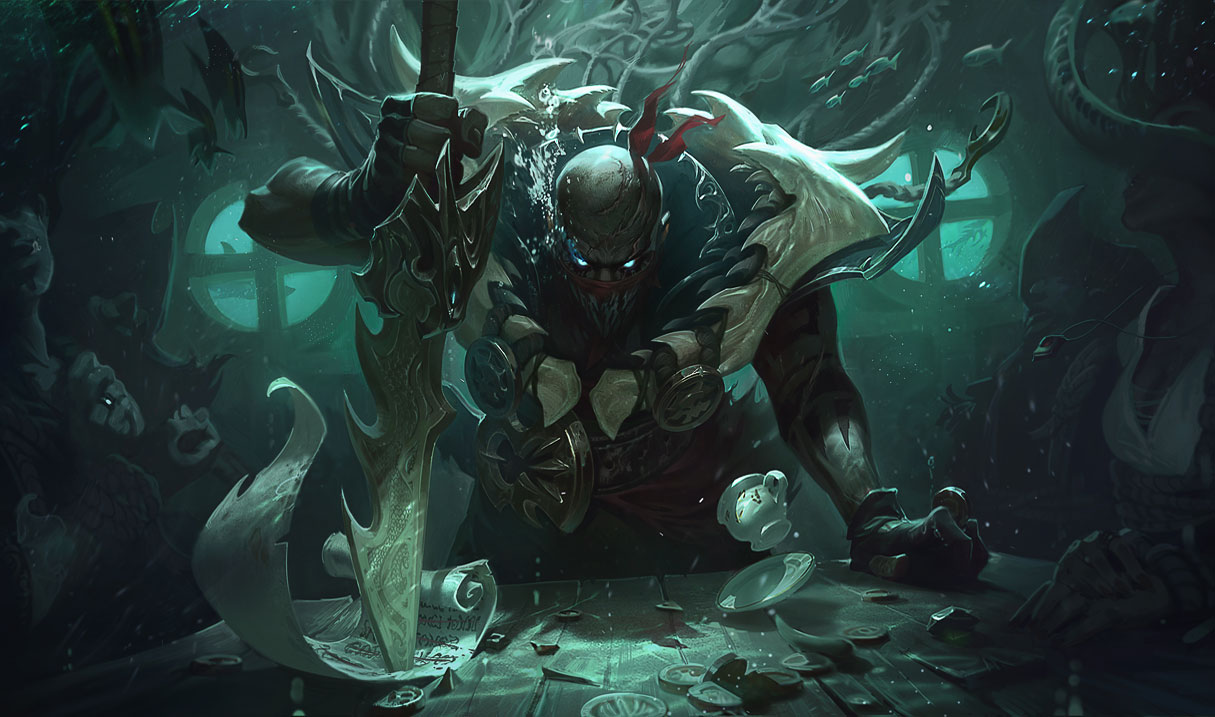 Universe:
LoL
Abilities:
Pyke is an undead revanant, composed almost entirely out of salt-water. As such Pyke is able to literally melt into water at a whim. When there is no water nearby, he can scatter himself into a fine cloud. Disappearing from sight as his spirit moves invisibly with the cloud of moisture. He is able to create water clones of himself, who attack with the same force and ferocity of their creator. Pyke, a legendary harpooner was an expert of fighting targets larger than him. This has continued even into undeath. He is capable of harpooning and hooking foes expertly, and butchering the weak with practiced ease.
Bio:
As a youth, Pyke started out like many in Bilgewater: on the slaughter docks. All day, every day, monstrous creatures of the deep were hauled in for rendering in the butcheries that lined the waterfront. He found employment in a district known as Bloodharbor, as even the tide itself was not strong enough to wash away the red slick that ran constantly down its wooden slips.
He became well acquainted with the trade—both the gruesome work and meager paychecks. Over and over, Pyke watched heavy purses of gold being handed to captains and crews in exchange for the daunting carcasses that he and his fellows would hack into salable chunks. He became hungry for more than a few copper sprats in his pocket, and managed to talk his way onto a ship's crew. Few individuals dared to hunt in the traditional Serpent Isles manner: launching themselves at their targets to secure tow-hooks with their bare hands, and beginning to butcher the creatures while they yet lived. Fearless and highly skilled in this regard, Pyke soon cut a name for himself as the best harpooner a golden kraken could buy. He knew meat was worth pennies compared to certain organs from the larger, more dangerous beasts… organs that needed to be harvested fresh.
Depending on the difficulty of the hunt, each sea monster commanded its own price, and the most desired by Bilgewater traders was the jaull-fish. From its razor-toothed maw, priceless sacs of sapphilite were coveted across Runeterra for various sorcerous distillations, and a small flask of the glowing blue oil could pay for a ship and its crew ten times over. But it was while hunting with an untested captain that Pyke learned where a life of blood and guts would land him.
Days into their journey, a huge jaull-fish breached, opening its maw wide to reveal rows of sapphilite sacs. Several harpoon lines secured the beast, and though it was far bigger and older than any he had encountered before, Pyke leapt into its mouth without hesitation.
As he set about his work, a deep vibration began to stir in the creature's cavernous gullet. Roiling bubbles broke the ocean's surface, and an entire pod of jaulls began to push against the tethered ship's hull. The captain lost his nerve, and cut Pyke's lifeline. The last thing the doomed harpooner saw before the beast's jaws snapped shut was the look of horror on his crewmates' faces, as they watched him being swallowed alive.
But this was not the end for Pyke.
In the deepest fathoms of the unknowable ocean, crushed by the titanic pressure, and still firmly trapped within the jaull's mouth, he opened his eyes once more. There were blue lights everywhere, thousands of them, seemingly watching him. Tremulous echoes of something ancient and mysterious filled his brain, crushing his mind, showing him visions of all he had lost whilst others grew fat.
A new hunger overtook Pyke, one for vengeance and retribution. He would fill the depths with the corpses of those who had wronged him.
Back in Bilgewater, no one thought much of the killings at first—for so dangerous a place, the occasional red tide was nothing new. But weeks became months, and a pattern began to emerge. Captains from many ships were found carved up and left out for the dawn. Bar-room patrons whispered it was a supernatural killer, wronged at sea, gutting his way through the crew manifest of some damned ship called the Terror. Once a mark of respect and celebrity, the question "You a captain?" became a cause for alarm.
Soon it was the caulkers, too, and the first mates, merchant officers, bankers… indeed, anyone associated with the bloody business of the slaughter docks. A new name went up on the bounty boards: a thousand krakens for the infamous Bloodharbor Ripper.
Driven by memories twisted by the deep, Pyke has succeeded where many have failed—striking fear into the hearts of unscrupulous businessmen, killers, and seafaring scoundrels alike, even though no one can find any mention of a ship named the Terror ever docking in Bilgewater.
A city that prides itself on hunting monsters now finds a monster hunting them, and Pyke has no intention of stopping.
Alignment:
Neutral Evil
Link:
http://leagueoflegends.wikia.com/wiki/Pyke
Name:
Ermac
Sex (if any):
Male
Height (you can approximate):
5'8
Weight (you can approximate):
160ibs
Description/Picture: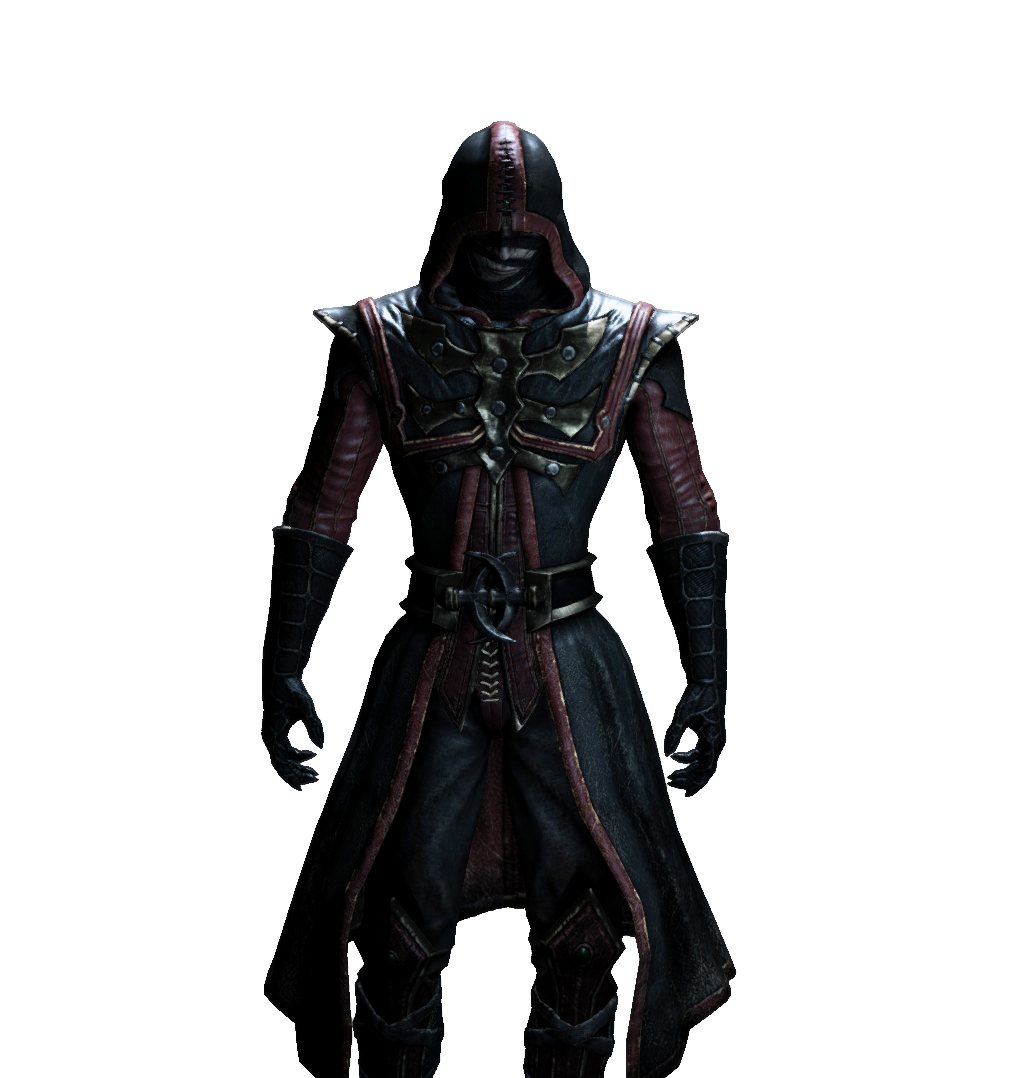 Universe:
Mortal Kombat
Abilities:
As mentioned above, Ermac is not one person, but an entire collection of souls of warriors brought together into physical form through means of powerful magic, courtesy of Shao Kahn. Due to this, Ermac always refers to himself as a group instead of a single person (saying things such as, "we" and "us", instead of, "I" or "me"). As a result of his very being being composed of thousands of souls, Ermac possesses various powers related to them, most commonly in the form of telekinesis, which allows him to manipulate every aspect of living and non-living objects with his mind. In addition to his telekinesis, he is also able to manipulate soul energy because of his composition, which he utilizes in the form of both levitation and firing projectile attacks.
In addition to his souls-based abilities, Ermac is also immensely skilled in physical combat. This may also be the result the fact that many of the souls that make up his body are that of ancient warriors who possibly are the source of his knowledge of different forms of martial arts. As showcased by Takeda's failed attempt, Ermac is immune to telepathy due to the many minds of the thousands of souls within his body.
While he may not appear to have any at first glance, Ermac does have one major weakness: the Netherrealm itself. Since he is a being created completely by magic, his powers would decrease over time the longer he stays in the realm, weakening the bond holding the souls together and overall threatening his very existence. However, by using a mysterious stone dubbed the Soul Stone Shujinko found for him, he ultimately is protected from this threat.
Bio:
Making his debut in Ultimate Mortal Kombat 3, Ermac has been a controversial and mysterious character in the Mortal Kombat series whose existence was rumored since its inception. Ermac is a fusion of the many souls destroyed in Outworld's wars, only to be controlled by Emperor Shao Kahn and his Shadow Priests. Because of this, he refers to himself as "we", "our", "us", and "ours", instead of "I", "my" "me", and "mine". Because of the sheer concentration of souls within Ermac, he possesses the gifts of telekinesis, teleportation, and the ability to travel between realms.
Ermac rarely shows any signs of emotion, but he has proven to be quite wise and a very deadly combatant, using his telekinetic abilties to battle multiple opponents at once while keeping the upper hand. Disappearing after the events of Mortal Kombat Trilogy, he only returned in Mortal Kombat: Deception, where he was freed from Shao Kahn's grip by the blind swordsman Kenshi, whom he repaid by teaching him the Telekinetic Slam. He decided to become a force of good, partly in guilt of his past evils. To prove this, he decides to help Liu Kang free the souls of his friends from Onaga's control.
In the current timeline, this did not happen and, after the events of Mortal Kombat, he soon came under the possession of Shao Kahn's soul, as well as King Jerrod's. Despite this, it's implied that Ermac has free will and is no longer evil due to Shao Kahn's death, as he willingly chose to side with Kotal Kahn to be ruler of Outworld instead of Mileena in Mortal Kombat X, despite Shao Kahn's decree. While Ermac's goal has varied over time, his overall allegiance is to Outworld, whether from defending it from threats like Onaga or finding a proper ruler for the realm itself.
Alignment:
True Neutral
Link:
http://mortalkombat.wikia.com/wiki/Ermac
Name:
The Third Overlord
Sex (if any):
Male
Height (you can approximate):
7'6''
Weight (you can approximate):
~220 lbs
Description/Picture:
Universe:
Overlord
Abilities:
The Overlord has a vast variety of magical powers at his grasp, such as the ability to send vast infernoes upon his foes, envigorate his minions into a bloodlust. His weapons are also imbued with powerful magics, granted by the sacrifice of dozens upon dozens of minions into the Dark Tower's Forge.
Bio:
The Third Overlord is the third known holder of the Overlord's mantle and fiercest enemy of the Seven Heroes, who led a ruthless quest for vengeance and conquest that made him the undisputed sovereign of the world for some years.
He was known by many epithets and aliases, such as Enemy of Man, Suppressor of Spree, Giant Slayer, Destroyer of Elvenkind, Most High Lord of Chaos and etc. He had as many names as the lands he had conquered, as many titles as the enemies he had slain. But before his rebirth in darkness he was simply known as the Eighth Hero, a heroic companion of the legendary Seven Heroes, who contributed more than anyone else to the downfall of the Second Overlord and who was subsequently betrayed by his former comrades and left for dead in the ruins of the Dark Tower.
Alignment:
Neutral Evil
Link:
https://overlord.wikia.com/wiki/Third_Overlord
----
Name:
Excalibur
Sex (if any):
Male
Height (you can approximate):
5'11''
Weight (you can approximate):
120 lbs
Description/Picture:
Universe:
Warframe
Abilities:
As with all Tenno, Excalibur is extremely agile, able to run across walls, dodge attacks, and use acrobatic movements to attack and/or remove himself from harm's way.
Slash Dash
- Dash between enemies while slashing with the Exalted Blade.
Radial Blind
- Emits a bright flash of light, blinding all enemies in a small radius for several seconds.
Radial Javelin
- Launches javelins towards enemies, dealing high damage and impaling them to walls.
Exalted Blade
- Summon a sword of pure light and immense power.
Bio:
The Sentients had won. They had turned our weapons, our technology, against us. The more advanced we became, the greater our losses. The war was over unless we found a new way. In our desperation we turned to the Void. The blinding night, the hellspace where our science and reason failed.
We took the twisted few that had returned from that place. We built a frame around them, a conduit of their affliction. Gave them the weapons of the old ways. Gun and blade. A new warrior, a new code was born. These rejects, these Tenno, became our saviors. Warrior-Gods cast in steel and fury striking our enemies in a way they could never comprehend. Excalibur was the first.
- Orokin 'Warframe' Archives
Alignment:
Neutral Good
Link:
https://warframe.wikia.com/wiki/Excalibur
----
Username:
 InfestedThunder 
Name:
The Morgawr 
Size of group:
12,000 various beasts 
Description/Picture:
here
Mastermind:   
Vore
Leviathan
Universe:
The Endless Universe 
Abilities/Equipment:
Only trusting the waters, this faction has faster, stronger troop transports and can disembark and embark anywhere. As natural seafarers, the Morgawr are the only faction able to take advantage of the high winds and rough seas that characterize the oceans. Masters of mind control and suggestion, roaming Minor Faction armies can be controlled by the faction for their own nefarious purposes. Driven by a fear of drying out and turning to lowly dust, this faction is most productive close to water. Seemingly content and pacified Minor Faction villages in neutral regions can be instigated to rise up and cause trouble. The ability of the Morgawr to control and influence the minds of others improves as it is practiced. They are now able to turn liberated spirits into pure Dust, linking living souls to ancient magics.
Fast and with an excellent vision range, the amphibious Mastermind is solid in defense but particularly useful for unmasking enemy plans by spotting camouflaged or hidden units.
The Vore is a solid fighter, but its great strength lies in its toughness and its ability to automatically lift its armor and improve defenses when attacked.
This giant creature of the deep is a dangerous foe whose powerful strikes can come at any moment; it can move stealthily then rise up to attack its target from the depths.
History:
 while much is known of the surface of Auriga, its oceans still guard many mysteries. While the nations of the planet learned to meet, trade, and war on the seas, another force arose from beneath them.
They are - or is? - the Morgawr, a twisted and possessed people that seem to be symbiotic creations of sea life and other, unimaginable species.
Constructed creatures that broke out of their prisons in the abysses of Auriga, the Morgawr are driven to seek the surface by forces they do not understand.
Only trusting the waters, the Morgawr can disembark and embark everywhere and their troop transports are faster and stronger than anyone else.
Masters of mind control and suggestion, they can control roaming Minor Faction armies for their own nefarious purposes.
Once the planet is theirs, however, their ambition may not be sated... 
Alignment:
Chaotic Evil 
Link:
 https://endlesslegend.gamepedia.com/Morgawr
----
Username:
 InfestedThunder 
Name:
Necrophages 
Size of group:
10,000 
Description/Picture:
Universe:
Endless Universe 
Abilities/Equipment:
A natural outgrowth of highly specialized evolution, some workers are able to excrete a semi-solid that dries into tough, fibrous material. This material, cheap and abundant, is used to speed the construction of city buildings.
Focused on a common goal, all soldiers dedicate themselves body and soul to victory.
Skilled at leaving and tracking pheromone-scented trails, the Forager is also capable of spitting highly corrosive acid.
Adept at striking from air, Necrodrones damage both by striking and by spitting clouds of caustic poison.
The great reproduction factory of the Necrophages, a Proliferator can resurrect both friend and foe by implanting eggs which control their minds. 
History:
 The Necrophages are a scuttling monstrosity polluting the surface of Auriga; an insectoid menace that should be crushed under one's heel like the mutated cockroaches that they are. Or so the Vaulters, the Wild Walkers, the Broken Lords and every other nation on the planet would have one believe.
Naturally, the Necrophages themselves don't share this view - in fact, they hold very few views other than fight, feed and propagate. The Necrophages have found a niche in the environment that suits them very well: They will win by numbers; by elevating the colony over the individual; by constant war-fare. Something between a hive insect and an undead horde, they reproduce by laying eggs in the bodies of fallen enemies.
Occasionally the offspring even inherits elements of the host's DNA accelerating their process of change and adaptation. Emotionless, relentless, and driven by their biology, the Necrophages do not waste time with diplomacy and commerce. 
Alignment:
Neutral Evil 
Link:
 https://endlesslegend.gamepedia.com/Necrophages
----
Username:
 InfestedThunder 
Name:
 The Minions 
Size of group:
 ~5,000 Minions 
Description/Picture:
Universe:
 Overlord 
Abilities/Equipment:
Browns are the basic minions that you start out with and are subsequently the most versatile of all the minions. Brown minions are born fighters and will gather Minion Equipment that will help them in battle (such as swords and armour) as well as things that have no relevance in battle (like pumpkins to wear as hats or Melvin Underbelly's crown.) They can sustain the most damage and can hold their own in a fight. They can not go through water, fire, or toxic gas however, so whilst it is important to always have some with you, it is generally a good idea to have some of the other minion tribes with you as well. Also they, unlike the other minion tribes, do not have tails.
In Overlord 1 they were able to, just like the Greens, jump on enemies if they attack them from behind. This renders them immune to attacks from that enemy, until they were shaken off or called back. However, in Overlord II they seem to have lost this ability. As of Overlord II, Browns can ride wolves, also known as "Good Wolfy", as mounts.
Reds are weaker and less equipable (they still do take equipment for themselves though) than their brown cousins. They have a ranged attack that can be very effective if used correctly. While this minion clan does not boast a large health pool, they possess the invaluable ability to be immune to fire and absorb flames. If paired with stronger minions, like browns, the reds will provide fire support to their fellow minions.They are best used on humans, halflings, ruborian raiders and any other creature that fears fire. If enough reds target an enemy, the enemy can catch on fire and take periodic fire damage that lasts until the flames wear out or the target dies .
Greens are slightly stronger than reds and are valued for their stealthiness, being invisible if still, their ability to pass through poison gas and absorb poison clouds, and their immunity to poison attacks,but they have poor hygiene as they have a foul smell of rotting flesh. They turn invisible to your enemies if posted at a guard marker, causing enemies to walk by without noticing them, until given the order to attack or when the enemy comes too close, which then the Greens attack automatically by jumping onto their backs if possible. Greens can do more damage than browns but only if you can attach them to your opponents back (works best on large enemies) in Ovelord 2 they have lost their automatic backstab attach (unless posted at a guard marker), requiring you to manually target the back of said enemy. They are also very quick as Gnarl commented on the fact the greens got distracted in the Minion Exodus, "We blinked and they were gone."
By gathering equipment, greens grow longer fangs and tail spikes.
These are the weakest of the Overlord's minions. However, they are the only Tribe that is able to swim where all other minions would drown ("in rather amusing ways", according to Gnarl). They can also revive dead minions (as long as they are in one piece). These are the only minions that will not attack an enemy without your order, but they also have the advantage of magic attacks allowing them to attack ethereal enemies, like wisps and ghosts. They can "auto-resurrect" if placed on a guard marker near the place of their fellow minion's death. However they are unable to truly attack enemies with a large health pool such as a empire soliders and gargantuan
By gathering equipment, blues grow additional fins on their heads. 
History:
Minions are a race of small Gremlin (Imp or Goblin)-like creatures. They are The Overlord's loyal servants that are born from Lifeforce(which comes from any killed living thing). They are used by the Overlord to follow his every command; from fighting to ransacking homes and smashing containers (and anything else that looks breakable for that matter). There are four types of minions.
They aren't very smart but they are extremely loyal to the Overlord to the point that they would die for him without a second thought (and more than once if resurrected), since Gnarl mentions that they have tiny brains and they are very 'honest', they seem to have a connection to the Overlord's gauntlet, which he uses to command them. They like to jump on sheep while hitting them on the head. Their true origin is unknown, although it is rumored that they originally came from the Netherworld. 
Alignment:
Chaotic Evil 
Link:
 https://overlord.wikia.com/wiki/Minion
----
Name:
Gnarl
Sex (if any):
Male
Height (you can approximate):
~3 feet
Weight (you can approximate):
80 lbs
Description/Picture: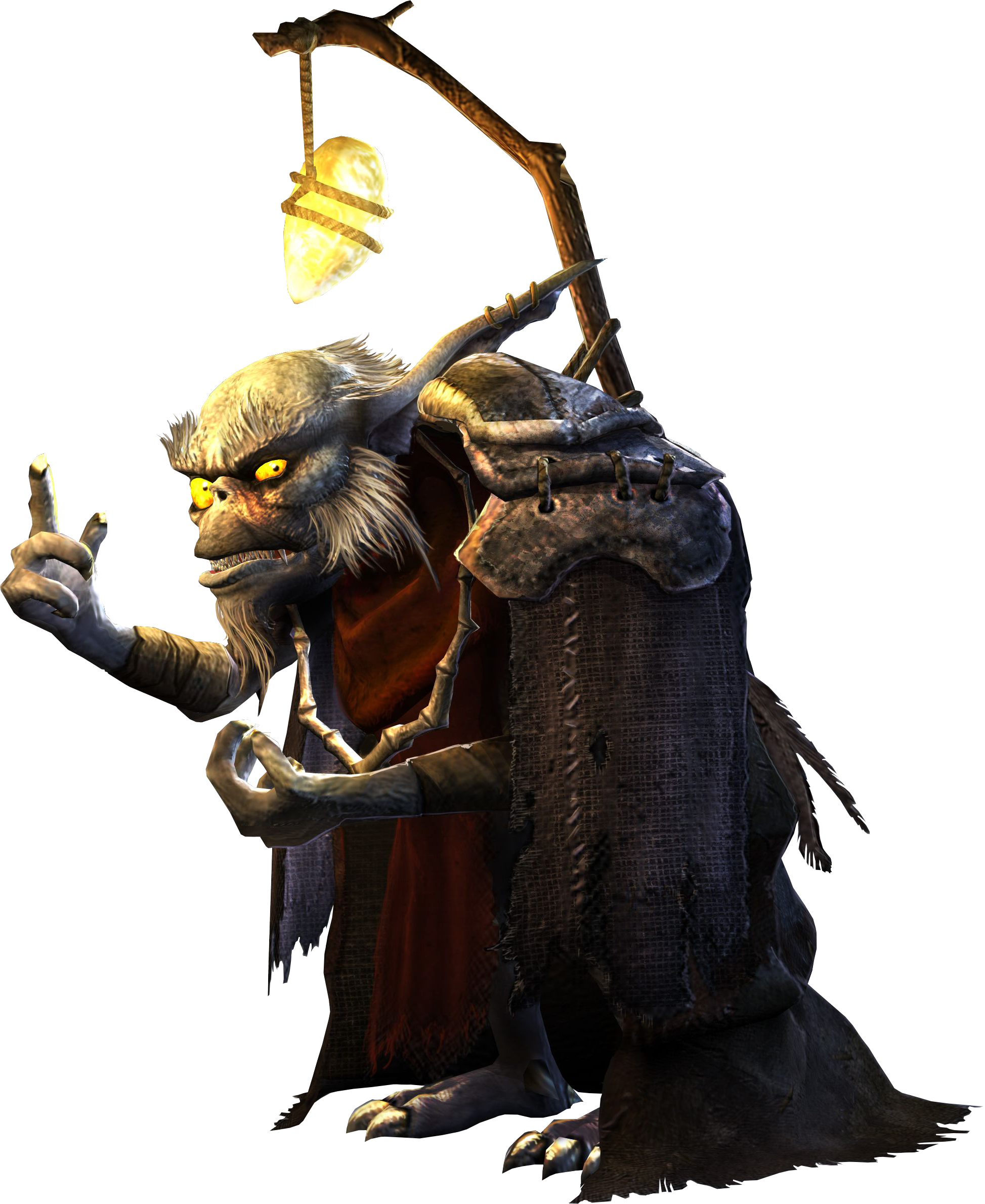 Universe:
Overlord
Abilities:
Gnarl is an aged minion who leads the minions between Overlords and acts as the narrator and advisor throughout the conquest. Even though being the frailest minion of the tower, he is the most experienced and knowledgeable, conducting various tasks like restoration of the tower while the Overlord is away and introduces new options and powers to him as they become available. He reflects the multiple paths of corruption the Overlord can take with his tone of voice and speech varying between light and black humour and always reminds the Overlord that "
There are evil deeds that need doing.
"
Bio:
Gnarl is an aged Hellspawn and the Minion Master. He also advises and guides the Overlord. By his recurring appearances in all the Overlord games, it can be assumed that he is possibly the first minion ever spawned. The only other minion almost as old as him is Giblet, which he mentions when touring the fourth overlord. He is very wise and he seems to know many languages. This is demonstrated when he translates the gnome communication when they declare war on the Fourth Overlord, and also when he translates the mumbles of the Silent Order to the Third Overlord. He also has a greater vocabulary than most minions, as he is to be smarter than the minions and has the same intelligence, if not more, than the overlord himself. He has a glowing crystal hanging from a wooden stick, strapped to his back. He uses the crystal as a lantern/illumination device, and judging from the glow, it could be a soul or Life Force, but it is currently unknown what it actually is. It is also unknown how he became more aware than the rest of his fellow minions, but it's suspected that he could be an overlord trapped in the body of a minion, and this is what causes him to betray the overlords and cause their downfall.
Alignment:
Neutral Evil
Link:
https://overlord.wikia.com/wiki/Gnarl
Fish




Posts

: 4


Join date

: 2018-07-17



Name:
The Lotus / Natah
Sex (if any):
Female
Height (you can approximate):
~5'4''
Weight (you can approximate):
110 lbs
Description/Picture:
Universe:
Warframe
Abilities:
Throughout missions, the Lotus will advise the Tenno of incoming enemy units and their awareness of the Tenno presence at the start of a mission, as well as upon an enemy alerting the rest by using a control console. She will also advise the Tenno of heavy units when they are nearby such as the Infested Ancients, Corpus Shockwave MOAs, and various heavy Grineer.
Occasionally, during a mission the Lotus will command a Tenno to ignore their original task and will issue a new one. For example, during a Spy mission, the Lotus may order to instead eliminate all enemy units and the objective will become Extermination. Any objects related to the old mission type will become obsolete and no longer needed to complete the mission.
Bio:
It is revealed that Lotus is a Sentient formerly named "Natah", and in some way responsible for the fall of the Orokin Empire. With the Empire in ruins and the Old War over, she refused to complete the final sequence of her mission: destroy the Tenno. She instead chose to become their "mother" after she had become sterile during the crossing to the Origin system, hiding the Tenno in the "second dream" to preserve them and betraying her father Hunhow.
In conversation with Teshin, the Lotus later claims to have destroyed whatever parts of her were Natah. Before the Tomb on Uranus is sealed, Hunhow warns her that the others of its kind have not taken kindly to her betrayal, and will attempt to bring her back into the fold.
Hunhow teams up with the Shadow Stalker to destroy the Reservoir, the weakness of the Tenno, so the Lotus forms a truce with Alad V to stop them. It is revealed that the Reservoir is hidden on Lua which the Lotus placed into the Void, shocking Alad V as Lua was previously thought to have been destroyed.
At the Reservoir, the Tenno discovers a figure in a jumpsuit, which the Lotus calls the "Operator". She urges them to return to the Orbiter, but are ambushed by the Shadow Stalker. Before being repelled, Hunhow discovers the figure in the jumpsuit is actually the true Tenno that pilots the Warframes. The Lotus then appears before the Tenno, explaining what they truly are and asks what they remember.
Palladino refers to the Lotus as the Great Sentient Queen and states that she created her personality from the dreams and memories of Tenno, copying Margulis' image, to explain how the Lotus is unable to recall anything related to Rell - a fact that the Lotus expresses in disbelief.
Alignment:
Neutral Good
Link:
https://warframe.wikia.com/wiki/Lotus
Fish




Posts

: 4


Join date

: 2018-07-17



Name:
Nirn Lavellan
Sex (if any):
Female
Height (you can approximate):
5'8
Weight (you can approximate):
130 lbs
Description/Picture:
Universe:
Dragon Age
Abilities:
Nothing marks Nirn as especially unique. She is skilled with a bow, her arrows are tipped with wyvern venom, and has the Mark on her hand, but is otherwise a regular, mortal person. She relies on her skill alone to carry her through fights.
The Mark: The mark upon the Inquisitor's hand is one of mass destruction. It is capable of tearing a hole in the Veil, allowing for the demons and spirits on the other side to come through. She may also use it to summon a miniature rift that slows time around it and drains those caught in it's radius's life, albeit very slowly. In the end, this is a last ditch effort on her part, as she works to seal rifts, not open them.
Nirn's skill with a bow is almost legendary. She's fought dragons, giants, darkspawn and all manners of wild beasts. She has a variety of skill to choose from in the battlefield. Her skill is most applicable from a far, where her arrows have time to find their marks. The further she is from her opponent, the more damage she's capable of inflicting. She has a number of  arrows tipped with explosives, which rival the power of a small hand grenade. Ever the acrobat, she is also capable of widening the distance should someone close in on her, leaping backwards and unleashing a volley of arrows behind which she hides herself from sight for a short time, becoming effectively invisible. Her most potent shots though are taken at a distance, with plenty of time aiming, capable of finding chinks in armor and weaknesses in the flesh.
Bio:
SPOILER WARNINGS FOR DRAGON AGE: INQUISITION. Every major decision is touched on in here. Beware.
Nirn was a young Dalish hunter when the world went to hell. She was sent to spy on the Conclave by her clan's Keeper, a decision that thrust her into the middle of the events that soon took place. After the destruction of the Conclave, she awoke with the mark on her hand, granting her the ability to close rifts, and marking her destiny forever. She was thrust into the head of the newly formed Inquisition, and forced to make difficult decision after difficult decision.
He decision to seek out the Templars' aid in sealing the Breach condemned the rebel mages to slavery under the Tevinter. He decision to allow Celene's assassination put an elf into power for the first time in Orlais' history. Her decision to save the Grey Wardens at Adamant rather than exile them allowed the Inquisition to flourish. She drank from the Well of Sorrows, gaining the complete history of Elvhen lore, which allowed her to bind a dragon to her will, which allowed her to finally face Corypheus.
Her time outside the Inquisition was not as scrutinized. She took up the craft of Dragon Hunting, slaying every High Dragon known to Thedas at the time. She was, at the height of it all, possibly one of the most powerful women in all of Thedas. And then, she was pushed through the Fade, into the Dimensional Clash. She's found herself in a new realm, with true gods and beasts she could never imagine, and much fight for her life to survive.
Alignment:
Lawful Good
Link:
https://dragonage.wikia.com/wiki/The_Inquisitor
Fish




Posts

: 1


Join date

: 2018-08-08



Accepted! Welcome to The Clash, Mav!

_________________
Then the world blew up. The end.
Dictator





Posts

: 85


Join date

: 2015-09-15



Name:
Pudge
Sex (if any):
Male
Height (you can approximate):
9'3
Weight (you can approximate):
Immense, grows the more he eats
Description/Picture:
Universe:
DOTA
Abilities:
Pudge is a lumbering mountain of flab, flesh and muscle. He is incredibly resilient to damage, that only increases the more meat he shoves into his gullet. This also grants him immense strength, able to throw heavy butchery hooks like paper-airplanes, and drag whole animate treants back.
Pudge can also make himself rot at will, choking the air in a horrid display that kills lesser beings with but a few breaths. Finally, he is an extremely skilled butcher. Capable of quickly stripping large magnataurs to the bone in but three seconds. His cleavers growing sharper and heavier with every chop.
Pudge is a voracious eater of meat. He prefers raw, red meat, but will consume just about any type of flesh, including that of his fallen enemies. He is so gluttonous that he once ate a black dragon. He follows where war goes, keeping his belly filled with the fresh meat of the newly slain.
Occasionally, Pudge also eats a bit of raw fish, although he does not consider it "real" meat. He is also fond of bone marrow, but doesn't care much for chicken.
He has a keen sense of smell, especially for meat. Unlike most living things, Pudge never needs to sleep.
Bio:
In the Fields of Endless Carnage, far to the south of Quoidge, a corpulent figure works tirelessly through the night--dismembering, disembowelling, piling up the limbs and viscera of the fallen that the battlefield might be clear by dawn. In this cursed realm, nothing can decay or decompose; no corpse may ever return to the earth from which it sprang, no matter how deep you dig the grave. Flocked by carrion birds who need him to cut their meals into beak-sized chunks, Pudge the Butcher hones his skills with blades that grow sharper the longer he uses them. Swish, swish, thunk. Flesh falls from the bone; tendons and ligaments part like wet paper. And while he always had a taste for the butchery, over the ages, Pudge has developed a taste for its byproduct as well. Starting with a gobbet of muscle here, a sip of blood there...before long he was thrusting his jaws deep into the toughest of torsos, like a dog gnawing at rags. Even those who are beyond fearing the Reaper, fear the Butcher.
Although he is often asked, Pudge refuses to answer any questions about his family, and gets quite irate at curious strangers. In his youth, he served in the employ of King Brandalon as his royal butcher. This was the beginning of Pudge's career, which he considered the best years of his life. The King's reign was particularly bloody, and Pudge is one of the few who are still alive to remember the carnage. At some point, he also spent some time on a farm.
Seeking meat, Pudge journeyed to the Fields of Endless Carnage, where he loomed over the dead, cutting up and devouring their flesh. For reasons unknown, he left the Fields before the Rumusque Clerics made a pilgrimage there to purge the land.
Long ago, the Chains of Abscession were forged by the Rumusque cleric Crella to bind the minions of the Dead God. Over time, the Chains became corrupted by The Dirge, and fell into the Dead God's power. They turned against Crella's people, destroying her homeland. Since then, the Chains have taken on a mind of their own. It dislikes gods, and has a particular hunger for Anti-Mage, likely due to his opposition to the Dead God. The Chains are familiar with Vrogros, having consumed his minions before.
Pudge came upon the Chains of Abscession after being banished for an unknown reason. He found himself in a place filled with the dead, and smelled something of interest inside a great crack in the earth. Entering the crack, Pudge encountered the Chains of Abscession, lured there by the same things he had smelled. The Chains moved of their own accord, flying through the air and attacking Pudge. Eventually, he was able to subdue the Chains, and bring it under his control. The Dead God considers this an act of theft, and demands the Chains be returned, going as far as to send Pudge meat. However, Pudge enjoys the Chains' company and has no intention of giving them back.
Alignment:
Chaotic Neutral
Link:
https://dota2.gamepedia.com/Pudge/Lore

---
Permissions in this forum:
You
cannot
reply to topics in this forum